(9) Do the minimum in trying to achieve the least bad outcome.
Sabrina: More isn't always better, Linus. Sometimes it's just more.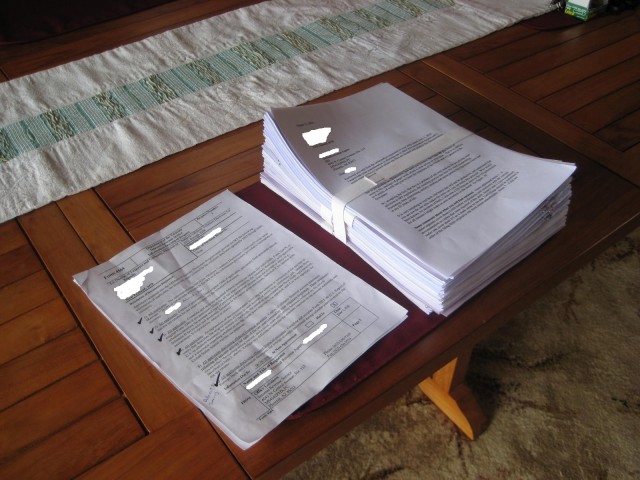 Commentary:
Once your life is in the hands of a compliance condor, fastidiousness becomes the norm, and you will find that IRS requires forms for many aspects of your life that you never knew were even taxable. The compliance industry also has a penchant for telling you that it is better to be safe than sorry. Principle 9 is really a reiteration of the first: (1) What the IRS can't know unless you tell them can't hurt you.
It is perhaps best not to tell compliance condors, if ever you engage one, more than a minimum of information–because there is no client confidentiality with a tax preparer. Furthermore, they will not be happy if you tell them about something and do not take their advice to file the correct form.
Doing the minimum may mean doing nothing at all. Not filing and coming into compliance. Not renouncing or even reporting your prior relinquishment of US citizenship to a Consulate to obtain a CLN. In some cases it means renouncing or relinquishing, and not coming into IRS compliance. Each person's case is different, and because our governments and banks are not protecting us, each person is on their own to find a solution.
In my own case, doing the minimum meant getting out of the IRS system as cleanly as possible, and so I deemed it necessary for myself to relinquish my citizenship and to file my final 1040 tax returns and the exit form 8854. But I did the minimum necessary to escape the IRS and I did not employ a fastidious compliance condor.
Here are some concrete examples of doing the minimum, especially in the Canadian context.
RRSP (Form 8891): Is it really necessary to file since the IRS will not find about these accounts under the FATCA IGA? If you have already filed for an account in the past, perhaps yes. But why introduce new information to the IRS.
Fifth Amendment privilege: Not every line of IRS forms has to be filled out. If the information provided could lead to a criminal investigation, it is perfectly acceptable to write "Fifth Amendment" which is a signal to the IRS that you are invoking your  privilege. By law, however you are expected to provide all the information that they need to assess your taxes.
Mortgage FX gains and real estate capital gains: Mortgage foreign currency gains are considered taxable as are real estate capital gain. But real estate transactions are not part of the FATCA IGA.
TFSA and treating TFSA as a foreign trust: The US taxes TFSA but under the FATCA IGA they will not know anything about them unless you inform them. Furthermore, apparently the IRS has not ruled that TFSA must be treated as a foreign trust.
CRA forms and Social Insurance Number: My preparer once stapled my Canadian tax return to my 1040. I would say that is a complete no-no. It gives the IRS all kinds of superfluous information that could be used against you in a court of law. Once I took over my own reporting using TaxAct, I sent the minimum of information to the IRS in order to properly report my income. I am not even sure whether the IRS can even require proof of income (such as T4 or T5 in Canada).
Personal corporations: It may be that a person can do a simple tax return for the IRS without getting fastidious about how some of the actual income was deferred in a personal corporation.
Previous Petros Principles:
(1) What the IRS can't know unless you tell them can't hurt you.
(2) Fear makes the IRS more dangerous than it really is.
(3) Haste is the devil.
(4) Those most hurt by the IRS's persecution of expats have engaged the services of cross-border compliance condors.
(5) Those least hurt have done nothing.
(6) Home is where you live.
(7) An unjust law is no law.
(8) Don't feed the beast.

About: Petros is the alias of the founding administrator of the Isaac Brock Society. Petros Principles are guidelines that have helped him and others deal with the United States' world-wide tax invasion.