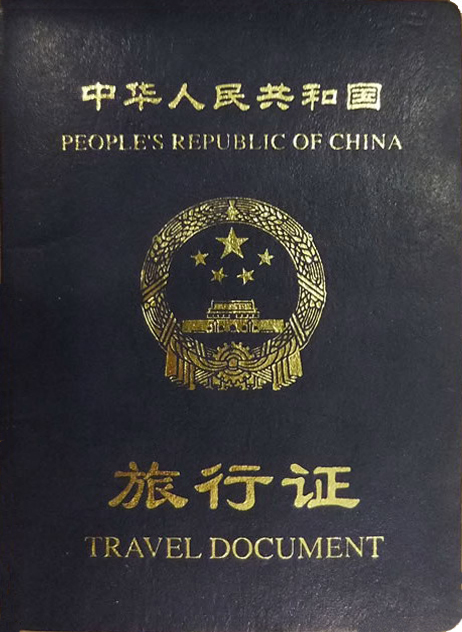 A couple of weeks ago, Chinese-language media in Canada reported that some second-generation Canadians with parents from Hong Kong have recently been unable to obtain visas for visiting mainland China, and were instructed by a visa processing centre to apply instead for temporary travel documents (pictured at right) as Chinese citizens instead. (Their right to visit Hong Kong is unaffected; Canadians can visit Hong Kong for up to 90 days, and the Hong Kong government does not require those with a potential claim to citizenship to resolve it before visiting.)
Nevertheless, these reports provoked a large number of inquiries to the Canadian government, and so the issue has leaked over into the English-language press just in time for the anniversaries of both the British North America Act 1867 and the Hong Kong's 1997 handover to China; various sources (CBC; South China Morning Post; Reuters; Time) are reporting the following fascinating statement by Felix Corriveau, a spokesman for Canadian Minister of Immigration, Refugees and Citizenship John McCallum:
Canada is aware of recent reports of challenges for Canadian-Chinese dual citizens in obtaining visas to visit China from Hong Kong. We are looking into the issue and are following up with the Chinese authorities.
Oddly, Messrs. Corriveau and McCallum do not seem to have sent any similar enquiries to Washington, D.C. regarding the far more aggressive policy of the United States towards Canadian individuals it claims to be U.S. citizens, which doesn't simply include asserting sovereignty over alleged dual citizens when they visit the country, but rises to the level of threats to impose sanctions on Canada if Ottawa does not hand over their private information to Washington DC. An accidental oversight, I'm sure.
After the jump I translate portions of the relevant reports from the Canadian editions of Hong Kong newspapers Ming Pao and Sing Tao, and provide further discussion.