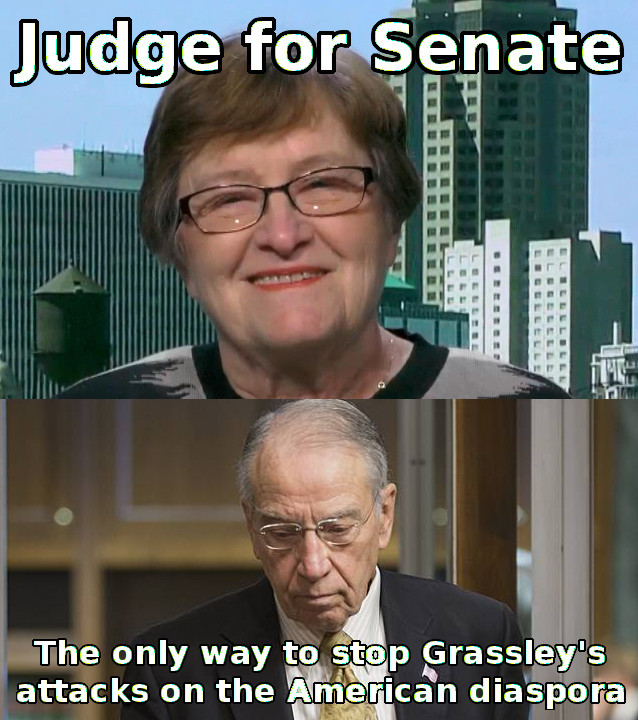 After decades of coasting to reelection, Sen. Chuck Grassley is facing his toughest race yet. Iowa political observers say the 82-year-old Republican senator known for his independent streak could be in danger in a turbulent, no-holds-barred presidential election year. A Loras College poll released Thursday had the Iowa lawmaker in a statistical dead heat against Patty Judge, his Democratic challenger. Grassley led by only one point, 46-45, against the former lieutenant governor. That nominal advantage was well within the poll's four-point margin or error. (The Hill, 4 July.)
So, the Republicans have made some big promises to the diaspora in their platform. But it's up to the actual legislators whether they want to implement those promises or not, and any Republican Senator who gets re-elected this November has six years to spend ignoring the platform before he next gets called to account. And as we well know, one prominent Republican member of the Senate Finance Committee is dead set against giving anything to the diaspora: Chuck Grassley, who's been gunning for us ever since the Ford administration.
In the current election, there's at least a slim chance of finally putting Grassley out to pasture: Iowa tends to lean more Democratic during presidential election years, and Grassley faces a strong challenger with excellent name recognition. And Democrats Abroad hope to capture the votes of middle-of-the-road emigrants who have been forced by circumstances to become single-minded single-issue voters. So I have to ask: why on Earth have Democrats Abroad been deafeningly silent about Patty Judge?
Do Democrats Abroad know anything about taxes?
The Elephants hardly have a bulletproof record on U.S. diaspora policy. Numerous times, they've voted to tax & fine the diaspora in order to pay for goodies for Homeland constituencies they actually care about. Republicans are the party which gave us phantom gains taxation on mortgages and "enhanced" FBAR penalties in the name of fighting terror financing. They keep attacking the Foreign Earned Income Exclusion — TIPRA in 2005 being the prototypical example, 2012 and 2013 tax reform proposals by Dennis Ross (R-FL) being other lesser-known ones. They were fully on board with passport confiscation. In 2002, forty-four House Republicans sponsored legislation to banish every single ex-American who exercised their human right to change their nationality, whether or not they were motivated by taxes. Last year they even voted unanimously to repeal the estate tax on Homeland millionaires and billionaires while explicitly leaving it in place on ex-citizen thousandaires whose inability to comply with the "Internal" Revenue Code's paperwork demands turned them into covered expatriates.
Not all of these were Chuck Grassley's fault, but a very large proportion certainly were. I have very little clue about Judge's proposed tax policies (and apparently neither does she), but while the average Democratic candidate might be worse than the average Republican on this issue, no one short of Schumer and Levin reincarnated in one body could be any worse than Grassley and his blind stereotyping of the diaspora as traitors living the high life in Paris.
This shouldn't be any big revelation to Brock regulars, but how about the rest of you who came here by following a link your friend sent you? Is this news to you? And if so, why on Earth are you finding out about this for the first time in your life from a blog whose authors have almost all given up on U.S. politics and on U.S. citizenship itself, instead of from the Twitter feed of Democrats Abroad? It's almost like DA's sole function is to export stale canned talking points from the Homeland, rather than understand the actual pain points of emigrants in order to generate fresh ideas locally.
Judge and Social Security
Update and correction, 25 July: Judge has at least one concrete tax policy: she supports "increasing the current cap on Social Security wages". The Des Moines Register also uses the word "wages" when discussing her Social Security proposals. That is to say, Judge is silent about whether or not to extend SECA/FICA to "investment income", whereas Clinton explicitly supports that. We previously discussed how Clinton's proposal would massively increase double taxation and paperwork headaches for members of the diaspora in countries with which the U.S. refuses to sign Totalization Agreements.
As the Democrats refuse to admit and we've been saying on Brock for years, not just "the wealthy" but everyone living "offshore" ends up having "investment income", because of the American propensity for inventing income out of thin air.

This is yet another iteration of the Same Old Problem with [citizenship-based taxation]: CBT is a piss-poor way of extracting cash from the diaspora because of the existence of Foreign Tax Credits, and the Homeland wants more cash. Eritrea solves that issue by not signing any tax treaties and thus not being obligated to grant any FTCs. The USA does not have that choice, so they inevitably do one or both of the following:
1. Inventing forms of "investment income" which the local government does not consider to be income and thus does not tax (hello PFIC & phantom gains!), and which are absolutely impossible for any ordinary person to even calculate how much alleged "income" there is thus virtually mandating that you use an accountant
2. Inventing new taxes to which existing FTCs and tax agreements don't apply (payroll tax, the Obamacare investment tax) and refusing to sign new agreements to plug the gaps (34 out of 36 countries in the Americas, 12 out of 13 in Oceania, 46 out of 48 in Asia do not have a Social Security Totalization Agreement)
To be fair, Democrats Abroad have language in their platform calling for the elimination of Social Security withholding on Americans abroad. However, they didn't actually ask the Democratic candidates for their opinions on that, nor manage to get it into the Homeland Democratic platform. And none of these thorny issues stop DA from promoting Judge while simply not mentioning Social Security at all. (end update)
To vote, or to stay home?
Many left-leaning members of the diaspora, in particular those with no concrete plans of moving home anytime soon, are rather imperfectly enthusiastic about Hillary, and are thinking of sitting this election out. The Republican promise to repeal citizenship-based taxation isn't enough to get them to vote for Trump — tax reform involves horse trading, and they suspect that the diaspora will once again be the horse whom Congressional Republicans sell to the glue factory in exchange for quick cash. But equally, they see no reason to believe Clinton's far weaker promises about ameliorating FATCA's worst effects, and are not going to swallow their misgivings and cast what's effectively a vote to continue all of the existing anti-diaspora policies.
In short, they don't want to vote for a candidate who will make them embarrassed to be American, but they don't see any reason to vote for a candidate who's going to force them to stop being American either.
There are Republican emigrants from Iowa who despise Trump and are only planning to vote because they hate Clinton even more — give them a reason to stay home. And there are Democratic emigrants from Iowa who aren't enthusiastic about Clinton, and don't see any reason to cast a ballot at all — give them a reason to vote at least in the Senate race. If Democrats Abroad want to do something for the "Abroad" part of their name without betraying the "Democratic" part of it, they should get the word out about how awful Chuck Grassley really is.
About the author: the author of this post is a money-laundering, drug-dealing, job-exporting terrorist who defected to Red China to evade U.S. taxes. Hopefully taking advice from him won't get the Democrats in worse trouble than that time when the Republicans took actual cash from an ex-American here.