America's colonists are taxed from a faraway capitol
The population of the U.S. citizens overseas rose 34% in only 4 yrs, according to U.S. Dept. of State, whilst no U.S. candidates are addressing their issues and not even speaking to them. 9 million U.S. citizens overseas are PISSED OFF.
In comparison, the average U.S. growth rate over 5 years has been only 4.1%. The fastest growing state in U.S.,  North Dakota, has risen only 12.5% in the last five years, to 602,000 residents.
There are more U.S. citizens overseas than 40 of the U.S. states. Yet, not a single U.S. presidential candidate nor candidate for any of the federal offices has addressed the issues of U.S. citizens overseas or even spoken to them.
Although figures are difficult to obtain, the highest increase in voter registrations is occurring overseas. You would think that candidates for federal offices would want to speak to their voters? How wrong you are–the candidates are back in the Homeland with their heads up their whazoo.
So, where the heck are the U.S. candidates? Presidential? Senate? House of Reps?  — Nowhere to be seen. We are being led by nobodies.
The U.S. trade balance is the absolute lowest listed on its own website. Per capita, it lies midway between Iraq and Yemen.
So what have the U.S. political candidates have to say about this? Absolutely nothing. Nada. Not a single remaining candidate has spoken to any of the 9 million U.S. citizens overseas.
Republican Donald Trump has not uttered a peep, despite the active involvement and lobbying of Republicans Overseas and the expat/emigrant-friendly RNC platform.
Democrats Abroad has involvement with its bureaucratic FATCA same-country exception platform and its support of Residence-Based Taxation (RBT), but (although it is part of the DNC) it has not penetrated the DNC platform. Bernie Sanders (after choking back his standard "offshore bank account rhetoric") had told a D.A. audience that he supposedly supported Same Country Exception and RBT. Hillary did not attend the Democrats Abroad Global Town Hall, as she was busy at a fundraiser for herself in California. Her standin was Madeleine Albright, who attempted to placate the Democrats Abroad listeners with some semblance of herself as Hillary. Interesting that the Hillary-supporter online DA crowd was based in the recently-conquered, newly NATO-favorable Ukraine. Ukraine was a critical domino for the Hillary NATO conquest. Hillary plans to make FATCA more comfortable for its victims and to make Democrats more comfortable with dual taxation.
The up-and-coming Gary Johnson is rising, despite being shut out of the polling mechanisms and the debates which are contingent upon polling results. He is expected to be on all of the ballots of all the U.S. states. However, Gary Johnson is yet to realize that Americans could actually live outside of America.
The Green party is barely noticeable, but will soon also be on the ballots of all the states. However, the party and its presumed nominee Jill Stein have shown no interest to the U.S. expat population which numbers more than 40 of the U.S. states.
The issues for U.S. expats are quite well summarized in their 2nd class status as colonial subjects. These U.S. colonists have listed up the Intolerable Acts which have been imparted upon them by their rulers in Washington. None of the new Washington rulers have given a squat about it.
One would think also that the hundreds of U.S. Congress representatives and the current class of U.S. Senators might give a shirt. But they don't. We haven't seen a darmn shirt of them. Senators Paul and Lee have made noticeable efforts, but have not made much traction.
Well, America, figure it out. You've got a current balance deficit that has been below zero since 1976. You deserve it. You should have figured it out that it is the result of extra-territorial taxation. Your exporters and your salesmen are sitting outside of your borders. If America treats their best allies (U.S. citizens overseas) like dirt, America will go down the hole. U.S. expats have been holding your export water for years, but all you do is piss on us.
U.S. expats need to think like Al-Anon members. The U.S. will never get better until it completely crashes. So USA, either speak to us now or go crash. And don't look for us until you've figured out what is wrong with yourself.
Independence Day has brought upon new meanings to U.S. expats and U.S. emigrants.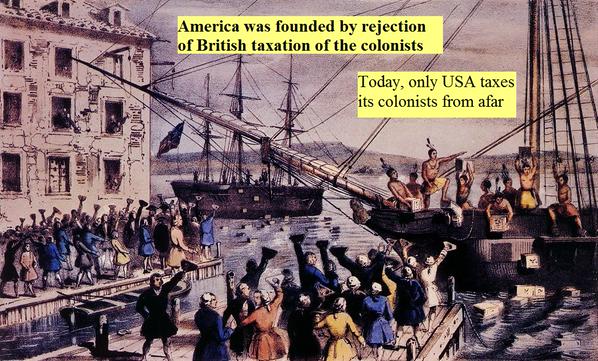 Update from the Stepford Wives
The Hillary's position upon making your FATCA experience more pleasant
The Hillary's 4th of July message to her global subjects (which appears to be triggered by this post):
(Knowing that it was her that jammed the IGA's down each country's throat) Please do inform us if there is something that she offers that is of any use.