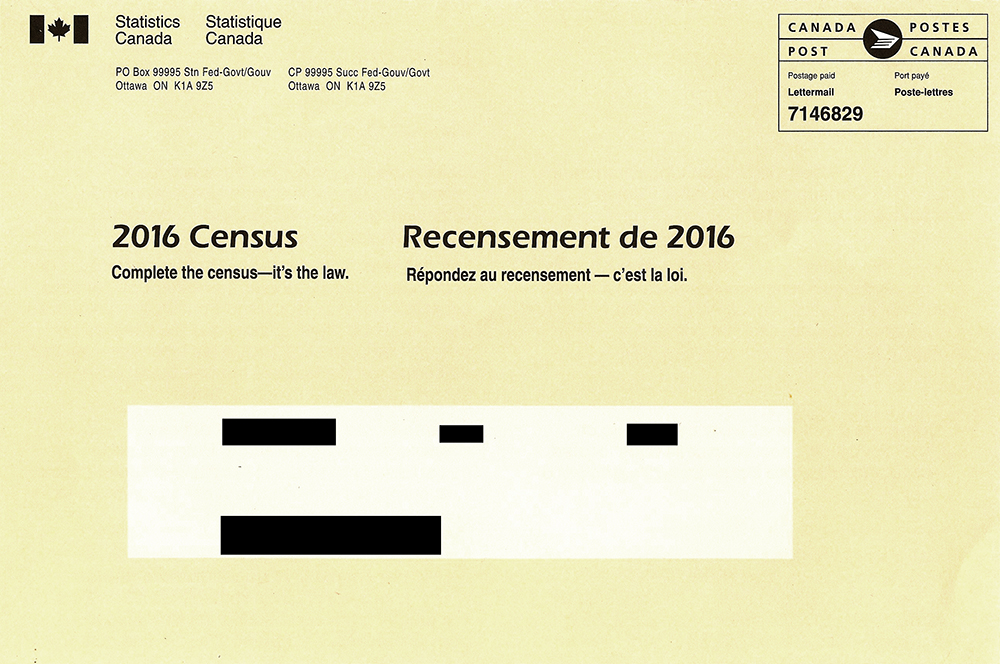 So I just received my 2016 Canadian Census notice in the mail today, complete with a personalized secure access code, presumably to initiate the self-destruct mechanism attached to the few remaining vestiges of privacy I have in my life, and to potentially out myself – and my family – to both the Canadian and US Governments. In the back of my mind I'm thinking, should I really be this paranoid, just because it's increasingly likely that everyone is indeed out to get me?
While I have so far managed to elude the FATCA police by sheer luck of having never revealed my birthplace to anyone where I bank, I am now confronted with one of the first true conundrums of my post-OMG moment life – how to respond, if at all, to the following census questions:
2016 Census of Population questions, long form (National Household Survey):

STEP B
1. Including yourself, how many persons usually live at this address on May 10, 2016?
1: Number of Persons

2. Including yourself, list all persons who usually live here on May 10, 2016.
1: Family Name(s); Given Name(s)

STEP C
1. Did you leave anyone out of step B because you were not sure the person should be listed? For example, a student, a child in joint custody, a person temporarily away, a person who lives here temporarily, a resident from another country with a work or study permit, a refugee claimant, etc.

1: No
2: Yes. Specify the name, the relationship and the reason.

STEP E
Copy the names in step B to question 1. Keep the same order.

If more than five persons live here, you will need an extra questionnaire.
1. Name.
In the spaces provided, copy the names in the same order as in step B. Then answer the following questions for each person.
1: Family Name, Given Name

SOCIOCULTURAL INFORMATION

12: Where was this person born?

Specify one response only, according to present boundaries.
Born in Canada
1: Nfld. Lab.
2: P.E.I.
3: N.S.
4: N.B.
5: Quebec
6: Ontario
7: Manitoba
8: Sask.
9: Alberta
10: B.C.
11: Yukon
12: N.W.T.
13: Nunavut

Born outside Canada
14: specify country

13: Of what country is this person a citizen?

Indicate more than one citizenship, if applicable.

"Canada, by naturalization" refers to the process by which an immigrant is granted citizenship of Canada, under the Citizenship Act.

1: Canada, by birth
2: Canada, by naturalization
3: Other country — specify

14: Is this person now, or has this person ever been, a landed immigrant?

A "landed immigrant" (permanent resident) is a person who has been granted the right to live in Canada permanently by immigration authorities.
1: No. Go to question 16.
2: Yes

15: In what year did this person first become a landed immigrant?

Example: Year 1974
1: Year. If exact year is not known, enter best estimate.

PLACE OF BIRTH OF PARENTS

24: Where was each of this person's parents born?

a) Father

Mark or specify country according to present boundaries.
1: Born in Canada
2: Born outside Canada — specify country
b) Mother

Mark or specify country according to present boundaries.
1: Born in Canada
2: Born outside Canada — specify country
The bottom of the notice reads:
By law, your responses will be kept confidential.
Thank you for your cooperation.
Didn't the CRA also recently insist that their handing-over of the financial information of hundreds of thousands of Canadians to the US Government is also being kept confidential? How reassuring.
Now, I'm well aware that there are a million other data points out there already broadcasting every detail of my life to whichever three-letter agency might be interested, but it genuinely concerns me that this very explicit package of personal information is being demanded so unequivocally, right now, when so many of us are still figuratively hiding in the attic, not all that far removed from Anne Frank – and the Canadian Government damn well knows it. The threat is right there on the front of the notice:
Complete the census – it's the law.
So, that perennial philosophical question: what would Jesus do?
If you are a US Person living in Canada in 2016, what will you do?