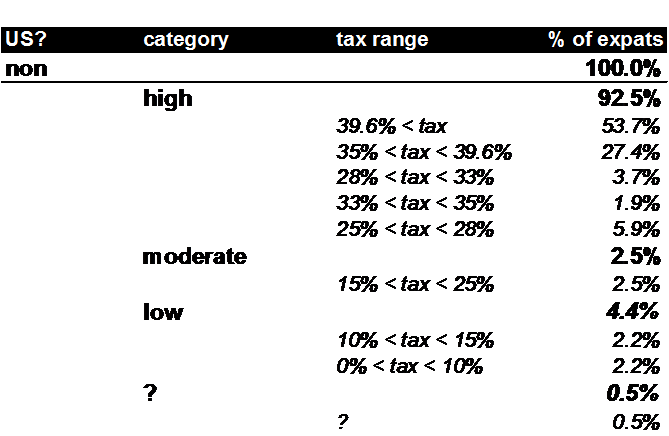 Washington will punish the masses to meet the needs of media propoganda—media which often says "rich expats are leaving America to avoid taxation"—But reality shows that 91.5% 92.5% (updated) of U.S. expats live in regions taxed higher than any typical U.S. tax rate (higher than 25%). And another 2.4% 2.5% live in countries moderately taxed (15%-25%)!
The punishment is meant for those terrible few — "the 1%-ers" , but the effect of the media and Washington is to punish the masses. 8.7 million US citizens live outside America as expats or immigrants. The media has branded them all as rich jet-setters out to escape taxation.
But U.S. expats largely live in high tax regions. This data shows that their reasons are totally NOT for tax avoidance.
The data is assembled from US citizens in each country, as shown by local census and UN data.
A small portion (1.7% 0.5%) of the US expat population lives in "?" countries whose tax rate cannot be identified yet by the author.
A very small portion of the US expat population lives in jurisdictions known to have personal income tax rates which are less than 10%. This includes Saudi Arabia, Bahrain, Brunei, Kuwait, Oman, Qatar, and United Arab Emirates—far from a luxurious place one might dream to live in luxury.
The only "luxurious" places where US expats are identified to live are The Bahamas (0.3%), Cayman Islands (0.1%), and Guatemala (0.3% ), with the percentage of total U.S. expats in parentheses. Note that Guatemala is tied with Bahamas as being the most luxurious "tax haven" where Americans might move to evade taxation.
(By the way, Guatemala is known to be attractive to U.S. retirees who are trying to minimize their costs in a low-cost-of-living jurisdiction so as to make best use of their limited retirement funds. Many retired servicepersons have discovered Guatemala for this.)
So the entire U.S. extra-territorial personal income tax code is based upon screwing 98% of U.S. expats, simply because media propoganda wants to chase after a tiny proportion of Americans living in Bahamas or the Cayman Islands–who are assumed to be guilty of tax evasion until proven innocent. And the media is also villifying the entire expat population because 1.7% 0.5% of the expat population lives in a place like Ukraine, Vanuatu, Wallis and Futuna, Western Sahara, Zimbabwe — where authors simply cannot find information about the country's tax rates.
Here are where U.S. expats and emigrants live, sorted by the tax rate of their country.

Washington (and the Washington media): Liars, Liars. Pants on Fire.
(updated 10 March with tax rates from
http://www.economywatch.com/economic-statistics/economic-indicators/Income_Tax_Rate/   )