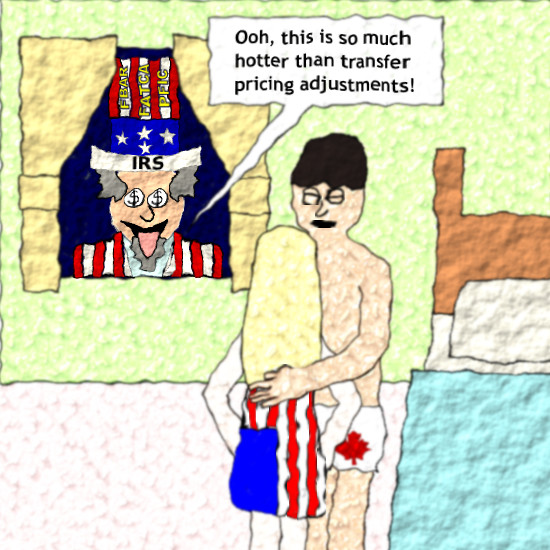 An unusual report from Metro News: MapleMatch.com offers to pair Canadians, Americans fleeing Trump
A new dating website is offering to pair Americans with Canadian singles to save them from a Donald Trump presidency.

MapleMatch.com promises love and a U.S. escape plan if Trump becomes commander-in-chief.
However, nowhere does MapleMatch.com see fit to warn their Canadian users about the severe dangers of becoming intimate with Americans: your new lover has a crazy stalker ex named Sam, who's coming after you two across international borders to get his voyeuristic jollies. For the rest of your life, you'll never be alone together: the weirdo will peep into the most private aspects of your relationship, keep trying to break into your house to help himself to money from your wallet, and threaten to drag your children into his perverted games.
The danger of dating American: citizenship-based taxation
Want to have a joint bank account? Both the "Internal" Revenue Service and the Financial "Crimes" Enforcement Network (FinCEN) demand to know all about it and will threaten you with huge fines if you refuse to tell them.
Thinking of buying a house together? Good luck getting a mortgage. Worse yet, "Uncle" Sam will be right there with hand outstretched demanding money when you sell it — even if it was a loss in Canadian dollar terms.
Dreaming of starting a restaurant or a bed-and-breakfast together? That's a Controlled Foreign Corporation or Foreign Disregarded Entity under US law (unless you make sure the American has less than half — but then it's in danger of being a PFIC), and you get to keep another set of books under the U.S.' Generally Accepted Accounting Principles, and spend more than a hundred hours per year filing the same tax forms as U.S. multinational corporations — hope you have fun paying for Google-level accounting on your budget!
Want to save up to help your kids pay for university? That Canadian Registered Educational Savings Plan is an offshore trust just like those folks in the Panama Papers have, and the IRS wants even more paperwork from you to make sure the Canadian government isn't helping you evade American tax — and it gets even worse if the RESP holds any mutual funds.
And don't think you can call the cops or your MP and tell them to get this crazy stalker thrown in jail or deported. All they'll tell you is that "Congress has spoken" — doesn't matter which party they're from. The nutter from down South is gonna keep harassing you two unless you pay him $2350 to go away and release your American other half from the "allegiance" they "owe" him — and then even after that, he'll threaten to block her from going back to visit her friends and relatives (though that appears to be an empty threat for now).
Conclusion
Instead of taxing companies which actually do billions of dollars of business in his country while shifting their profits to tax havens, Sam the Stalker has decided the best way to pay off his ginormous credit card bill is to follow your new American boyfriend or girlfriend to Canada and keep sponging off of him or her. If you're a Canadian thinking of dating an American, be aware of all the relationship baggage they'll be bringing north, which people of no other nationality carry — you'll need protection so you and your future kids don't get infected.