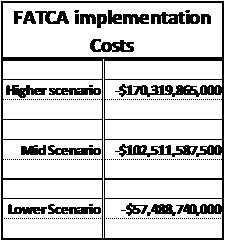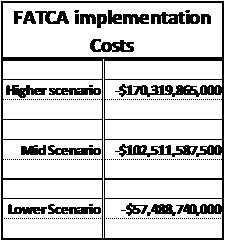 In order for the U.S. to gain $8.7 billion, the world was forced to pay between $58 billion to $170 billion. This is the reason why neither the US Congress nor the Obama administration released any #FATCA cost-benefit analysis.
There have been varied approaches to calculate the total cost of FATCA, many of which are shown in the FATCA Wiki article.  The Chamber of Commerce had estimated $1 trillion to $2 trillion, whilst Forbes had estimated $8 billion per year. Neither had shown their methods. Another guest author had derived per-capita estimates to arrive at $200 billion FATCA cost. Another author had visualized that FATCA made an American priceless, by considering the average cost per U.S. person to be located.
It has also been shown, that nearly all of the supposed gains estimated to come to the government via FATCA, would be lost because of the lost tax revenue upon U.S.-owned financial institutions overseas. So, Wikipedia has summarized that #FATCA is a big loser.
In order to verify FATCA cost estimates, this method (put forth here by a guest contributor) looks at the costs estimated for each FFI, and totals the costs for all of the FFI's registered in the FATCA FFI registration database.  The search performed after the end of 2015 yielded 182,649 FFI's.
We know that a very large bank (but not at all the largest) such as Scotia Bank would have paid $100 million to comply. However, it is not really known how many of those banks might exist. One must assume a quantity, such as 100 banks, 500 banks, or 1000 such banks in the world.
We also know that a small FFI would pay about $25,000 for smaller institutions, $100,000 – $500,000 for medium-size institutions, and $1,000,000 for larger institutions. What we don't yet know, is how many firms are medium, large, or small. Therefore, we must do a number of scenarios to get the total picture.
We have all the base data, we only need to make a few scenarios, and total the costs for each group of FFI size, and to get the total cost per the scenario.
So, there you have the cost of 3 different scenarios!
Now, there are a number of potential variations in each individual piece of data. However, each input value could be adjusted appropriately, the scenario could be iterated, and a more refined number could be created. However that might be done, the variations are controlled within the limits of practicality.
Please evaluate the calculations and give feedback. I'll be glad to provide corrections and adjustments.
In any case, it would be difficult for anyone to prove that the "benefits" of FATCA outweigh the global costs. What is shown here, is that FATCA costs more than 10 times what it was said to take in.
What we do know, is that FATCA is one big loser.