An author, John Gaver,  has recently opened a window to allow "the real story"
Here is how he responded to some multiple blasts from one of our colleague dissidents:
@… @kred65 @… Tell me how that story can be written 2 address the reader's question "How does it affect me?" & I will.  
This gives an opening to either present US citizens in a good light, or to present the administration in a bad light, depending upon how the author skews the information.
Here is the  incorrect information he provided in his article, which ellicited some nasty feedback from Brockers and others
http://www.examiner.com/article/obama-drives-record-10-000-wealthy-u-s-taxpayers-to-renounce-citizenship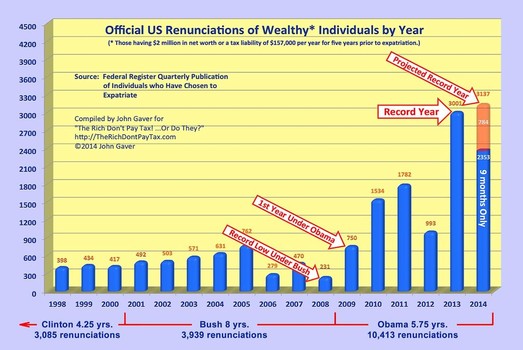 "It's official. Obama has achieved the ominous distinction of becoming the first U.S. president to have had more than 10,000 very wealthy taxpayers renounce their U.S. citizenship under his watch. Worse yet, he still has two more years to run these numbers far higher. According to the combined "Quarterly Publication of Individuals, Who Have Chosen To Expatriate" reports published in the Federal Register, since Obama assumed office the exact number of so-called, "covered expatriates," on September 30, 2014, was 10,413.
It's important to emphasize that these lists represent only wealthy expatriates. Under covered expatriate" (Note: 1) is is any expatriate who had a net worth of at least $2,000,000 (in current dollars) on the date of expatriation or had incurred a tax liability of $157,000 per year (based on 2014 dollars and adjusted annually) in each of the five years prior to expatriation. The IRS reports that the top 1% of income earners pay income tax at an average rate of 23.5%. So using that tax rate, an individual with such a tax liability would have to earn in the vicinity of $668,000 per year or roughly double the income floor to be in the top 1% of income earners." ………….
The author incorrectly attributes all the elements in the federal register as being covered expatriates.  This has a negative impact upon those renouncing/relinquishing or those thinking about doing such.  He goes on to rightly attribute those renunciants as having formerly been productive US citizens and rightly dumping on the administration and his 2010 Congress butties.
For anyone with a hard stomach this might be an opportunity to get your story across.  You should look at his past articles and his speaking podium and participate accordingly. You should consider what information you trust to provide and expect what slant he normally wants to present.
Here is his byline in twitter:
Author: The Rich Don't Pay Tax! …Or Do They? Original Intent Conservative. Purveyor of impeccable reason. Insane Genius (well at least half).  Texas… Where Else? · therichdontpaytax.com
Be aware that correcting his assumption upon all renunciants being rich might blow the byline he uses in these articles, so he won't go down without kicking. Also be aware that he shares a similar opinion of the administration & Treasury that most Brockers possess. So, he's sympathetic in one way, but wrongly informed on another.
You can find him posting many of his own articles up on his facebook page;
https://www.facebook.com/john.gaver.9?fref=ts
There is also an opportunity to learn him up about the facts upon what the list at the Federal register contains, and it is not covered expats.  For that background, many of you are very aware of how this has counted and many are able to search through Brock to find Eric's articles.  The latest summary of all that data was in this post, which had some additional clarifications by the participating commenters.
http://isaacbrocksociety.ca/2014/10/26/cooking-the-books-at-the-federal-register-what-has-the-executive-branch-been-feeding-you/
Maybe this post will generate one email to him, maybe a hundred emails, who knows.
His email is :        jgaver     AT      actionamerica.org
His twitter is :      @OrigIntent