On July 2 2014 my understanding is that Canada's banks will be asking (at least) new account holders questions and employing a variety of approaches to establish U.S. personhood. These questions will violate Canada's Charter Of Rights and other laws. Many of us also wonder whether the Silent Majority out there feels that such questions have no consequence.
Coming to a Canadian bank near you?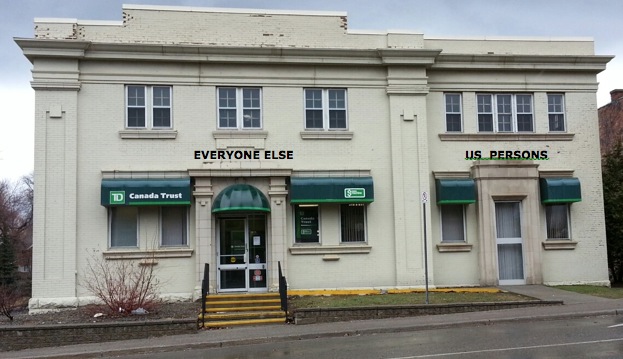 We need to know the actual questions and approaches and are focusing first on questions about U.S. personhood that will be asked by Canada's major banks when Canadians open a NEW PERSONAL CHEQUING account after July 1. I suspect that different banks may ask different questions.
When you have this information, please provide in your comments these questions to be asked and I will update the top of this post.
[Please also read the disturbing comments below from @Pollyanna, who reports that one Canadian bank actually used information provided in casual conversations with the account manager to help establish whether the account holder is a U.S. person.]
My local Canadian bank branches provide this information on U.S. questions asked or not asked when opening a new account (this info may all be incorrect; please correct):
SCOTIA BANK: "Are you a U.S. person for tax purposes?"
http://www.scotiabank.com/ca/en/0,,6098,00.html
TD BANK CANADA TRUST: "Are you a U.S. citizen" AND "Where were you born?"
TD's web information page: http://www.td.com/fatca/index.jsp
See: LM Correspondence with CustomerCare, TD for others to consider in relation to their own FFI's web information and their relationship with their FIs.
HSBC CANADA: "Do you hold multiple citizenship" AND "What is your place of birth"
http://www.expat.hsbc.com/1/2/hsbc-expat/services/expat-tax/tax-matters/fatca?WT.ac=HBIB_14_5_29_home_small_pro_FATCA_Find_out_more
NEW HSBC information consent
CIBC: Local branch will receive info July 2.
Note: the link below is for CIBC World Markets, which deals with Wholesale Banking (Corporate & Institutional) as opposed to Retail Banking (Personal & Small Business). We have yet to see a CIBC FATCA page specifically written for Retail Banking clients. Perhaps as of July 2, once local CIBC branches receive info, there will be such as page on the CIBC website.
http://www.cibcwm.com/cibc-eportal-web/portal/wm?pageId=fatca&language=en_CA
BMO: "Do you have any other citizenships" (tentative per @Anne Boleyn)
http://www.bmo.com/home/about/banking/foreign-account-tax-compliance
RBC ROYAL BANK:
http://www.rbc.com/aboutus/fatca.html
I would be very skeptical of this information:
"If you open a new account and provide two pieces of ID that are not U.S. tainted and do NOT INCLUDE A CANADIAN PASSPORT (e.g., Canadian driver's license and social insurance number are ok) and the bank has no other evidence to indicate that you are a US person (e.g., you never told the bank by mistake) no U.S. questions will be asked.
However, should you PRESENT A (TOXIC) CANADIAN PASSPORT at the time of opening an account, YOU WILL BE ASKED whether you do or do not have a U.S. place of birth."
The way to stop the questions from being asked is to go to: