Antidote:
An antidote is a substance which can counteract a form of poisoning.

"Piglet noticed that even though he had a Very Small Heart, it could hold a rather large amount of Gratitude."
― A.A. Milne, Winnie-the-Pooh

"Sometimes life knocks you on your ass… get up, get up, get up!!! Happiness is not the absence of problems, it's the ability to deal with them."
― Steve Maraboli, Life, the Truth, and Being Free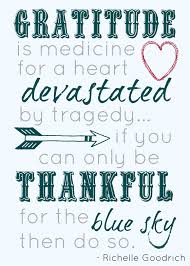 This is hereby our Gratitude Journal. All expressions of gratitude (I know I have many, including the blue sky outside my window) welcome. It's worth a try! Thanks for the idea, OMG!
"OMGheesstillanamerican" starts our journal:
Maybe what we need to do is start a Gratitude thread where we share the things we are grateful for in our lives no matter how small they might seem. Maybe calgary411 or somebody else who can post new threads could do that for us. Negativity is contagious but so is positivity.

My gratitude list goes like this:

1) My husband has a great job which means I don't have to go out and get a job even when my business is not doing well. I can ride out the storm.
2) My son is working and contributing to the family's finances which also helps. He rarely drinks, doesn't do drugs, or hang out with skanky girls. He's a good boy and I thank God for that.
3) We live in a beautiful large home in a small town which is something I always wanted.
4) I'm still young enough to make a big splash in the business world before I retire.
5) Sooner or later the Americans will come to their senses and even if they don't we'll find a way to deal with this mess. My son and I are not Americans so we'll just rearrange our finances.