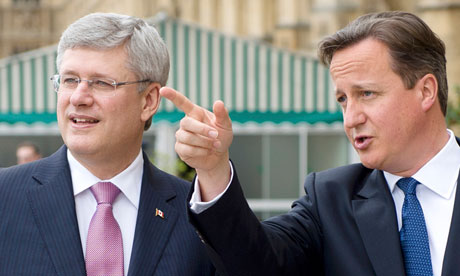 http://www.guardian.co.uk/world/2013/jun/13/g8-david-cameron-objectives
The prime minister was meeting continued resistance from his Canadian counterpart, Stephen Harper, over critical plans to require countries to reveal the true beneficial owners of shell companies and trusts. The measure is vital to combatting money laundering, fighting tax evasion and turning tax information exchange into something meaningful.
Cameron laid on the diplomatic red carpet for Harper, giving him the rare honour of speaking to both houses of parliament, a visit to the Queen and a lengthy bilateral meeting at Downing Street. But Harper is worried about exposing private Canadian tax affairs and fears complications arising from Canada's federal structure.
In a crucial advance for Cameron, a US Treasury spokesman said: "We view the G8 as an important opportunity to make progress on cracking down on criminal and illicit actors who use shell companies to hide their true identities".
The US Treasury said "Increased transparency including the availability of beneficial information to law enforcement is an essential element of the US broader effort to enhance financial transparency which also includes strengthening customer due dilligence requirements for US financial institutions with respect to beneficial ownership of legal entity account holders".
The remarks suggest that Barack Obama is not going to support public registries of beneficial ownership, limiting access to tax authorities.