photo from yesterday, day 1 of protest
PROTEST EVENING POSTMORTEM:
I know that this small protest did reach the FIsters attending the conference and put them on notice–because most refused to look us in the eye.  

This protest happened because of the dedication of on-site protesters including Atticus, Marie, Northernstar, Peter, Tricia, and WhiteKat, those (including Blaze and James Jatras) who helped in preparation of the letter to the Canadian Bankers Association that was critical to the protest, and because of the others I am not certain that I can mention.

Amazing people, all.
On-site coverage from IRSCompliantForever :
15.54.  A last goodbye from all of us to the banksters.
15:03.  Banker from small bank who hates FATCA just signed petition.
14:24.  AttIcus just explained FATCA to passerby.  Response was "Well, the banks need a little (words deleted)."
14:14.  Banksters we meet all express sympathy but insist that there is no way to prevent FATCA.  So many passerbys wondering about this FATCA word.
13:18.  Fellow from one of the major banks visited with us had a friendly chat and accepted the CBA letter.  He asked that we not disclose the name of his bank.  Banksters are also taking pictures of us.
12.55.  Another passerby came up to us expressing concern that her daughter has a Green Card.
Reports and photos of earlier today and yesterday after the jump
12:53.  A passerby just came up to us expressing concern that she was born to a US parent and asked whether FATCA applied.  Atticus explained and the woman thanked us for being here.
11:23.  Unexpectedly another protester arrived with signs.  Someone we all know.
11:13.  Police have arrived again.
10:51.  Nice sunny day.  One bankster inside gave us the thumbs up.  We had a nice chat with two reps of a major FI who accepted the CBA letter.
***
Day 1 of Protest – Yesterday, 13 November
13:40.  Stuck on a narrow curb.
13:07.  New development.  Head of security informed us that we had to move to the curb in which we must remain 18 inches from the street.  I called the police to resolve. Three police officers came and tried to intervene with security, but security refused as walkway is technically on private property. Want to emphasize that police tried their very best to help us.  We will try not to tip over on curb.  Lots of interest from passerbys.  Morale very high.
12:50
12:46
12:13.  Above is a photo of four Brocker/Sandboxers taken by a sympathetic passerby. Note that the person holding the "Do not marry an American" sign is a guest Brocker who is a kindly non-US spouse of a US person. She strongly supports the message of the sign and wants to be known as @LauraSecord. Small group but morale is high.
11:09.  Met a fellow working for a bank.  He says FATCA is painful.

11:02.  Tricia, Marie, NorthernStar and IRSCompliantForever just spoke to a very friendly and receptive journalist who will include mention of our protest in an article  He also said that this is the first FATCA protest he is aware of.  We cannot mention name of journalist.  We are pointing signs at the conference room.  Doors are closed now so that banksters cannot see us.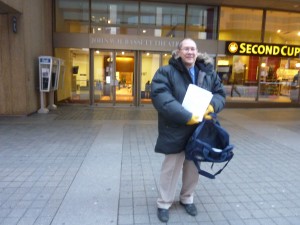 09:37.  Peter  is standing immediately in front of the conference meeting room.  We can see them and they can see us.  But we cannot enter.
07:33.  Peter and I are on site.  We were told us that we would be arrested if we entered building.  Tried to leave CBA letters but conference organizer refused and noted that our comments on IBS about CBA were inflammatory.
***
The conference is  "Canadian Institute's 19th Annual REGULATORY COMPLIANCE for Financial Institutions" at the North Building of the Metro Convention Centre in Toronto which has been brought to our attention through the diligence of @Tricia.    http://www.regulatorycomplianceforfis.com/