UPDATE SUNDAY NOVEMBER 13, 2016
REINCE PRIEBUS CHOSEN TO BE PE TRUMP'S CHIEF OF STAFF
EXCERPTS:
WASHINGTON — President-elect Donald J. Trump on Sunday chose Reince Priebus, the chairman of the Republican National Committee and a loyal campaign adviser, to be his White House chief of staff, turning to a Washington insider whose friendship with the House speaker, Paul D. Ryan, could help secure early legislative victories.

But as chief of staff, Mr. Priebus will be the one who has several hundred White House staff members reporting to him. He will be the primary gatekeeper for Mr. Trump and the person most responsible for steering the president's agenda through Congress. That role will be especially critical for Mr. Trump, who has never served in government and has few connections to important political figures.

As Mr. Trump denounced the Republican primary process as rigged and, on occasion, threatened to quit the party and run on his own, Mr. Priebus remained neutral. And when Mr. Trump secured the nomination, Mr. Priebus stood by his side.

Mr. Priebus worked with Mr. Trump on the nuts and bolts of presidential politics, trying to smooth his rough edges and staying in close contact as a bare-bones campaign prepared to go up against the Clinton machine.

PRESS RELEASE VIA MR. PRIEBUS JULY 2015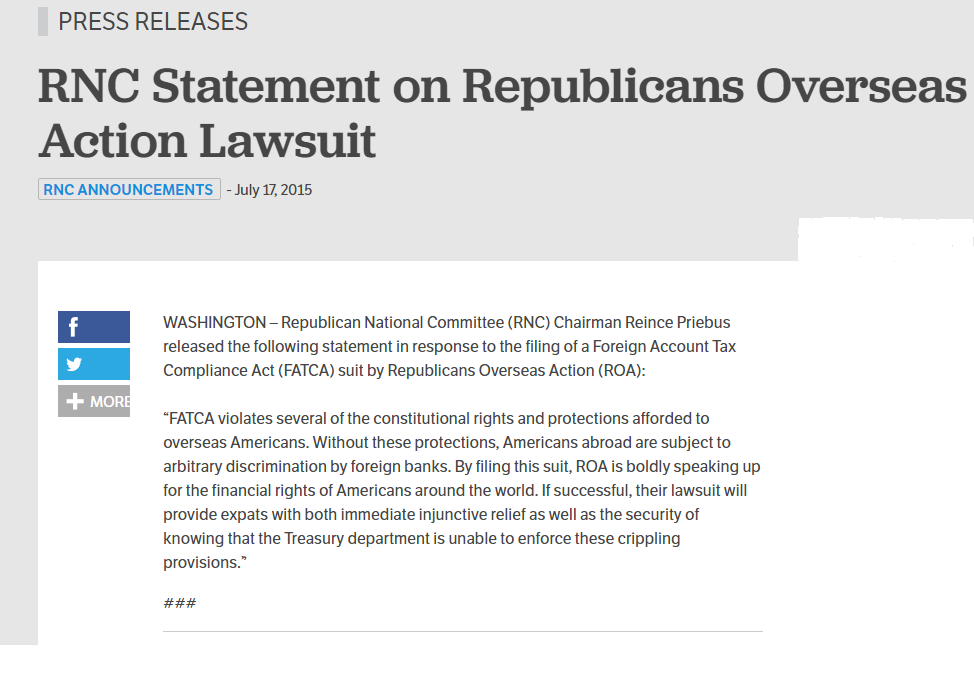 **********
I found myself wondering just what it is expats will want to focus on now, that the Republicans have the Presidency, and control of the House and the Senate. As Stephen Kish pointed out, this could change in two years (well, really just a bit more than a year as once the campaiging for the interim elections in 2018 start, we will likely have lost our chance to get this done quickly. What we do in the next year is critical to dumping FATCA and CBT.
I started thinking about what they promised and have gone through the Platform. I am going to list the main things I found that relate to our issues; if anyone finds more, please post. I also have two documents that focus specifically on FATCA and RBT as well as the link to Republicans Overseas Resolutions posted long ago on their FB site. It would be helpful if others want to isolate points and phrases to focus on in communications to the Republicans.
Continue reading →