UPDATE WEDNESDAY JANUARY 20,2016

A listener responds to CBC's call for people to tell their stories; Veronique Shinder:

http://www.cbc.ca/player/AudioMobile/All%2Bin%2Ba%2BDay/ID/2682331846/"


Original broadcast:John Richardson on Tuesday, January 19, 2016
http://mp3.cbc.ca/radio/CBC_Radio_VMS/80/883/ottallinaday_20160119_20484_uploaded.mp3

http://www.cbc.ca/player/play/2682218188

Please tune into to hear Alan Neal, host of "All in a Day" interview (CBC radio) with John Richardson this afternoon at:


5:45 PM Atlantic
4:45 PM Eastern
3:45 PM Central
2:45 PM Mountain
1:45 PM Pacific
9:45 PM GMT London
10:45 PM CET – Europe
5:45 AM AWST Perth West Australia
8:15 AM ACDT Adelaide South Australia
8:45 AM AEDT Melbourne & Sydney New South Wales
7:45 AM AEST Brisbane Queensland
NB: Hope the Australia times are converted properly….
I am listening right now – HERE.

or go here:
http://www.cbc.ca/allinaday
under the first menu bar – upper Right Hand Corner- Box: LIVE Click on "Listen Live"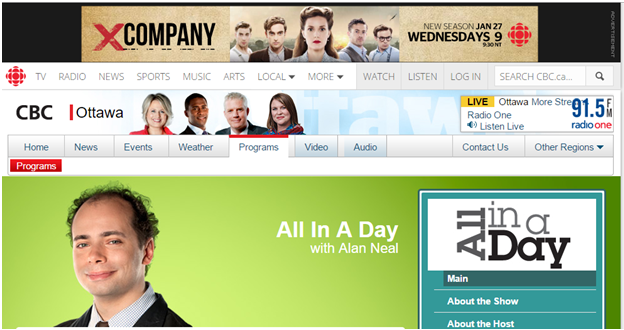 PLEASE: Anyone who is knows how/is able to record this, please do so since there will be limited time to listen to the replay version. Thanks!